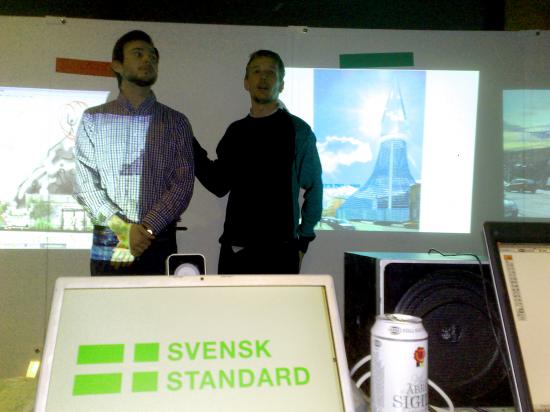 (To the right, Joel Jouannet is counting votes. Next to him, the winning proposal)
When the snow falls heavily on the streets of Stockholm, turning instantly into grey sticky sleet, it is nice to be able to write about some good things that are happening in the city.
Last wednesday the first round of International Architectural Battle was fought at the School of Architecture and some of us from Svensk Standard were lucky enough to be competing. Organized by Joel Jouannet, as a part of his masters thesis, the concept of the battle is simple yet exciting.
There are four teams, one site/task and one hour to produce a material that will be presented during three minutes, then the audience decide who the winner will be.
The battle was fierce and the audience ecstatic. The hall was filled with all kinds of weird energies and the resulting proposals were visionary to say the least. But what was really interesting was all that happened before the projects were presented and the winner was chosen. The architects usually hidden behind a desk or a computer screen became performers and suddenly architecture was all about joy and happiness. Maybe it was because of the beer or maybe it was because there simply is no time to be boring when you only have an hour to produce(/perform).
In the end activities like this are badly needed in Stockholm and it's great to be reminded that architecture really is about having fun.
Visit the website at http://internationalarchitecturalbattle.blogspot.com
(Oh, by the way, we won)